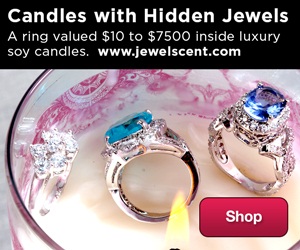 One of the things I love about fall is lighting candles, especially in warm, fallish or homey scents.  (Did I just make up 2 adjectives? Ah, well…)  Check out this hot deal from Jewelscent, the soy candles with jewelry inside!  This is a great and affordable gift, especially for someone that you don't know what to get, but want to get them something unique and nice! 
A ring valued from $10 to $7500 is hidden in every candle and soap. So, you don't just get a candle, but a ring too!
The jewelry candles use all natural soy wax and are environment-friendly.  They've been making luxury candles for over 30 years in California.
Jewelscent also has argon oil scented soaps with jewelry inside ! What a unique gift!
Go here to check out their selection!